12 Dec

Commodore's Ball 2016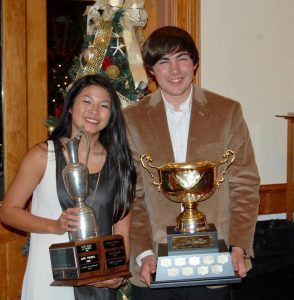 Congratulations to Sara Boyd and Truitt Williams- winners of the Marty Cup and Boat Cohen awards for 2016.
Sara has been a part of our Junior program since the 3rd grade when she told her mom that she wanted to teach sailing when she grew up.  This year, Sara completed the US Sailing Level 1 Teaching certification, taught Summer Sailing, competed in the US Sailing Ida Lewis Championship, chartered a club Laser 4.7 and competed in Galloway(2nd), Wadewitz(1st), Gulf Coast Championships and plans to sail in the Orange Bowl in Miami after Christmas.
Truitt is new to our program this year.  As a first year sailor, he took Summer Sailing, joined the FHS Sailing Team, has attended almost every practice, and raced in the Jerry Ellis Regatta, Shearwater, and MS High School Fleet racing championships.  He is off to amazing start!!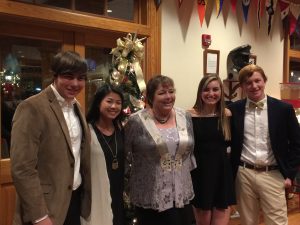 left to right:  Truitt, Sara, Holly Murray(FYC waterfront director), Camille McGriff(past Marty cup winner, Jr. Commodore) and Pete McGriff(Past Boat Cohen and Marty Cup winner)