21 Jul

2014 Junior Lipton's Regatta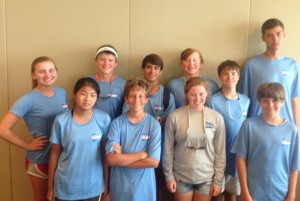 For the last several months our racing team along with coaches Ellis Ollinger and Kevin Northrupp have been practicing and preparing for the Jr. Lipton regatta in New Orleans.  They worked really hard to get this young team ready.  They represented FYC at Spring Regatta at BucYC, Summer Regatta at MYC and sailed lots of practices and Thursday nights at BucYC.
The regatta was held this past weekend, July 18-20 at Southern Yacht Club and 13 Juniors and Coach Ellis and Coach Raymond Long represented our club.
The forecast predicted miserable weather with at least 80% chance of rain each day.  However, our team meteorologist, George Pereira, along with our magical green raincoat(thanks to Joel Donald) managed to keep the rain at bay.  The race committee ran 4 races Saturdayand 2 races Sunday.  Our  skippers were: John Pereira(team captain), Philip Dobbins, Camille McGriff and Pete McGriff.  The crew members were: Forrest Pearson, Marshall Parsons, Saunders Fitzgerald, Catherine Donald, Samuel Koser, Sara Boyd, Connor Cobb, Liam Bishop, and Parker French.  In all, a group of over 30 FYC Juniors and Parents traveled to sail or support the team and everyone had a great time.  Our best race finish was in Race 5 with Skipper Philip Dobbins, and crew Samuel Koser and Saunders Fitzgerald coming in 6th place.
Southern Yacht Club repeated their win from last year but since they could not host the regatta two years in a row, the regatta will be held at Gulfport Yacht club next July.  Congratulations to the winners and a big thank you to FYC for all the support and encouragement!  We look forward to next year.